BST CONNECTION
Op zaterdag 27 november vinden workshops & dansbattles plaats in de Schutskamp Den Bosch. Hier kun je meedoen aan workshops zoals hiphop, breakdance & tricking. De dag zit vol dansbattles breakdance & stand up dance (ook wel allstyle genoemd). Probeer het eens uit of kom kijken! Zie de talenten van Brabant op de dansvloer en leer tijdens de workshops.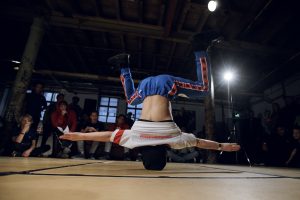 CATEGORIEËN:
Breakdance t/m 12 jaar | 1 on 1 battle
Breakdance t/m 18 jaar | 1 on 1 battle
Stand up dance (ook wel All Style genoemd) t/m 18 jaar | cypher battle
Workshops: hiphop – breakdance – tricking
ENTREE
Wegens de nieuwe maatregelen vragen we iedereen boven 13 jaar om een QR code. Deze krijg je als een vaccinatiebewijs hebt of je getest hebt. Bezoekers mogen plaatsnemen op een vaste zitplaats. Deelnemers mogen op de dansvloer hun moves showen. Zie hier alle info voor Testen voor Toegang:
TICKETS
Tickets zijn 5 euro aan de deur.
 TIJDSCHEMA
10.15u – Deuren open & inschrijvingen

10.30u – Workshop 1: breakdance

11.00u – Voorronde breakdance t/m 12 jaar

12.00u – Voorronde stand up dance t/m 18 jaar

12.30u – Top 16 & top 8 breakdance t/m 12 jaar

13.00u – Cypher Stand Up

13.30u – Top 4 & finale breakdance t/m 12 jaar & finale stand up

14.00u – Workshop 2: stand up & tricking

15.00u – Voorronde breakdance t/m 18 jaar

15.45u – Cypher breakdance (extra prijzen te winnen)

16.30u – Top 8 breakdance t/m 18 jaar

17.00u – Finales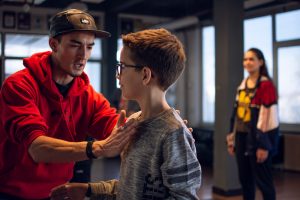 LINE UP:
Host: Arjuna (Cypher Active)
DJ's: L Locke & Kevanova
Jury Breakdance: Sranang Blaine, Vicky & Daryl
Jury Stand up (Allstyle) Dance: Quinty, Marchano & Ryan
Workshops: Daryl (Breakdance), Marchano (Popping) & Gary (Tricking)